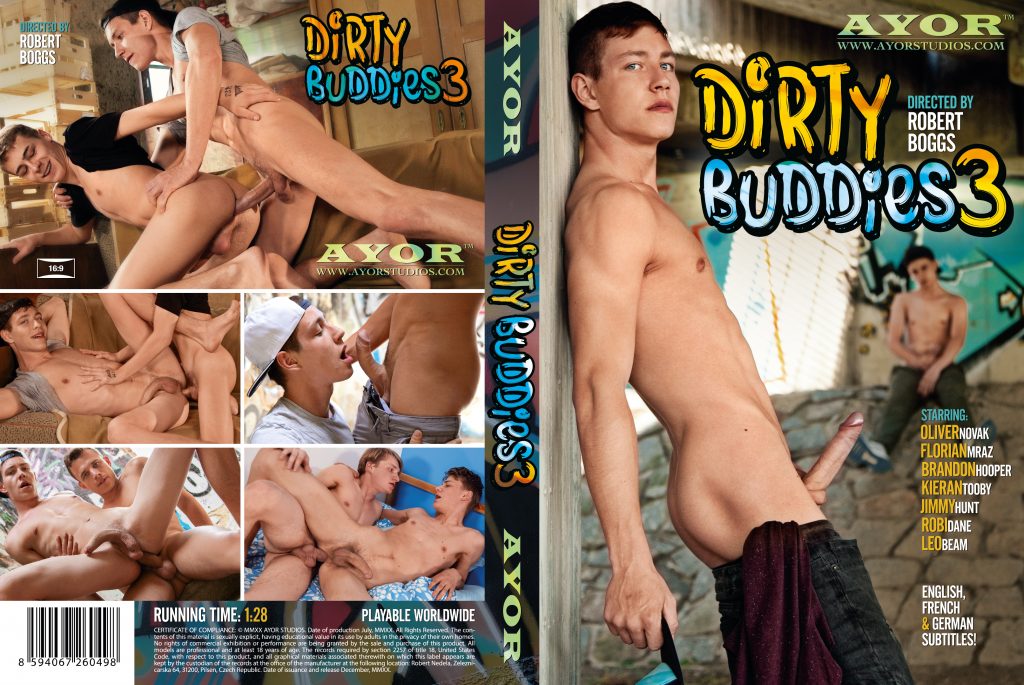 Length: 88 mins, 5 scenes
Starring: OLIVER NOVAK, FLORIAN MRAZ, KIERAN TOOBY, ROBI DANE
JIMMY HUNT, BRANDON HOOPER, LEO BEAM
Subtitles: In Czech with English subtitles
Directed by  ROBERT BOGGS
DIRTY BUDDIES-3
Oliver seems to be a very horny young man, as he's not just cumming once, but twice in this new "Dirty Buddies" episode! In addition to his nice, long, uncut boner that we get to see cumming later on, Oliver's most attractive feature is his irresistible smile. He smiles when he walks, he smiles when he talks about his hobbies and friends, and yes, he also smiles when he's shooting his creamy white load.
We're not sure what makes Oliver so special – apart from his beautiful, winning smile and his charming personality! -, but he seems to attract young, handsome men like light attracts moths. By chance, he meets Jimmy on the streets and he's more than happy to follow him home for a good bareback twink ass pounding!
We're not quite sure if it's the normal way to welcome a new roommate in a boarding house with a big, aching hard-on; but hey, tall and lean Kieran surely doesn't complain when Robi shows off with his naked body and the long, stiff cock between his legs! Oh what a hot way to welcum a new Dirty Buddy!
In the next episode of the "Dirty Buddies" adventures, we are presented with two well-built boys, Oliver and Florian, whose trained and muscular bodies are literally to die for. Florian is cruising an area which is infamous for casual hookups; and luckily Oliver comes by, sees Florian touching his bulge – and can't resist to suck all that delicious length! Florian is so horned up that he bends Oliver over and fucks his tight, muscular ass bareback with all he's got!
Oliver's big day has cum, because today he'll meet a new boy in person who he contacted online just yesterday. When the newbie shows up, he's quite impressed by Oliver's good looks and well built figure. He says he knows a place where both boys can find shelter from the rain – and where they can taste each other's cocks for the first time! Everyone who followed the horny adventures of the "Dirty Buddies" boys will find this attic familiar, and when Oliver's stiff cock pops out of his trousers, the nerdy-looking newbie turns into cock-obsessed eyecandy!   BAREBACK
play trailer :

download the movie here :

All AYOR studios members download the movie for free here :